Our Vision and Mission
Our Vision
Retention and promotion of Karen language, culture, history, identity and local governance.
Our Mission
To improve the quality of and access to education for Karen and other indigenous children in Burma.
How we implement our mission
We work toward improved quality of and access to education for Karen children and for other indigenous children in Eastern Burma by supporting teachers to improve their skills and their experience of teaching. This encourages teachers to stay in their positions and improves the quality of teaching and consequently the quality of and access to children's education.
We help mobilize the community to support teachers and students in school by fostering a deeper understanding of the benefits of education. This helps create a demand for education, improves children's access to school and improves support for teachers.
We help to strengthen school management systems, which improves support for both students and teachers and promotes local governance and ownership.
Our philosophy
KTWG's programs are built on principles of sustainability, community ownership and empowerment. We provide culturally based, relevant programs for Karen and other indigenous people to ensure that local needs find local solutions.
We work with communities by supporting and promoting existing structures, meaning they will remain long after our programs end. Our members usually come from the communities in which we work which further supports community participation and ownership.
In this way we can ensure sustainability in our programming and ensure community ownership and empowerment by allowing the communities to not only participate in but also to help guide our programs.
We advocate active, student-centered classrooms for students, which encourages problem solving, creativity and critical thinking. These are the skills, which will help our Karen and other indigenous communities build our future.
How we began
The Karen Teacher Working Group (KTWG) began in 1997 with summer vacation teacher training for Karen teachers in a refugee camps on the Thai Burma Boarder. The teachers had been displaced from conflict areas in Eastern Burma's ethnic Karen region, which we call Karen State.
It soon became clear that while teachers in the refugee camps had access to some, albeit limited, support, inside Karen where there was military conflict, teachers had little to support or training options.
We soon moved our in service teacher training inside the country with our Mobile Teacher Training Project visiting and training teachers inside Karen State in Burma.
What we do
Our in service mobile teacher project continues to form the core of KTWG's programming, but our work and our reach has grown since our humble beginnings in 1997.
Since then our programs have expanded in response to the education needs identified by our mobile teacher trainers along with the Karen communities which we work with.
In addition to in service teacher training, we now offer pre service teacher training through our two Karen Teacher Training Colleges (KTTCs). We also work with communities and parents to foster better understanding about children's education and the issues affecting it and with school management bodies to strengthen school management and support to children and teachers. Finally we provide education assistance to schools, teachers and students by providing teacher stipends, teaching and learning materials and recreation equipment for Karen Schools.
You can find more information about each of our programs below:
In Service Teacher Training (Mobile Teacher Training)
Pre Service Teacher Training (Karen Teacher Training Colleges)
Education Assistance (the Karen State Education Assistance Group)
Multi –Ethnic Network (the Eastern Burma Community Schooling Project)
Strengthening School Management (Support to Education Administration)
Community Mobilization (Parent and Community Education)
Where we work
Our core Karen Programs are in the Karen controlled areas of Eastern Burma. We reach schools, teachers and children in Kawthoolei or Karen State. This is how we refer to Karen areas.
Under the Myanmar Government demarcations this area spans Kayin State, Mon State, Bago Region and Tannitharyi Region.
We work in schools in towns and regional centers but also in very remote villages in mountainous areas which can take several days to reach on foot.
A map of the Karen areas we work in is below: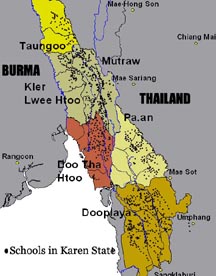 As part of the Eastern Burma Community Schooling Project we also support communities in other indigenous areas across Northern and Eastern Burma.
Who we work with
We work with Karen teachers, communities and leaders.
Since 2014 up to date data we provided training and education assistance support in Karen communities to:
2,167 Schools
12,035 Teachers
487,655 Students
829 Graduates 570 Diplomas from KTTCs
862 Villages
49,177 Peoples