Welcome to Karen Teacher Working Group (KTWG)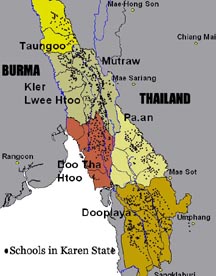 The Karen Teacher Working Group (KTWG) is a community-based organization working to improve access to and quality of basic education for ethnic Karen children in Karen areas of Eastern Burma since 1997.
We do this by training teachers and school management committees, working with parents and communities, providing education assistance funds and materials for schools and working to help strengthen education administration structures in Karen areas.
In 2011 we began to share our model of working in Karen areas with other ethnic groups and helped develop a multi ethnic network of education actors. This network is now using the KTWG model to assist their own schools and communities across Burma's indigenous areas.
Latest News
Posted October 20, 2014
The Karen Teacher Working Group (KTWG) launched its latest film "Our Schools, Our Language and Our Future" today in Yangon. The film investigates local education initiatives in communities across Karen areas of Eastern Myanmar. It shows KTWG's work providing in service mobile teacher training... Read more ►
Key Karen Education Statistics

* Figures shown are for the 2013/2014 school year.
Brief synopsis of our programs